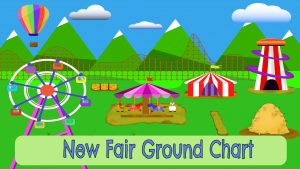 Roll Up! Roll Up! There's a new fairground in town!
Lunapip has today released the first free content update to Bimble Bumble Reward Chart.
Version 1.1.0 brings a new animated chart – The Fairground.
Available in 10 and 20 sticker versions, the Fair Ground – with it's ferris wheel, rollercoaster, carousel and more is sure to be a favourite for the summer.
Find out more about Bimble Bumble Reward Chart.