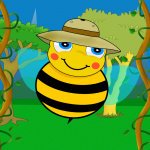 Bimble Bumble 1.1.0 Released
Children will love learning about the animals that live in the jungle.
I am pleased to announce the release of Bimble Bumble for iPhone and iPad. This update features the new jungle scene where children can learn about the animals that Bimble encounters.
And of course Bimble's previous adventures are still present:
Explore beneath the ocean
Fly through the solar system
Explore the hedgerow
Find out more or download from the App Store.