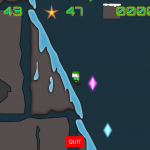 Yolo Episode 4 Now Available

Yolo Episode 4 is now available from the AppStore.
In this latest update, our hero continues his quest to reach his homeland. There's just one problem. Standing between Yolo and his friends looms the giant Mount Inoormus.
Hop, jump (and in this update bounce and float) over and through the mountain.
Yolo Episode 4 is available free from the AppStore and is available for iPhone, iPad and iPod touch.