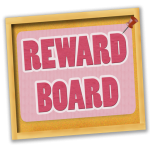 Reward Board Version 3.2 Now Available On AppStore
Lunapip today released version 3.2.0 of kids digital reward app "Children's Reward Board'.
The latest version now includes a new passcode feature. Parents or guardians can now set a passcode which is required when completing tasks.
In addition, the passcode also acts a 'parental gate' to the setup screens – preventing children from modifying the apps settings and from tapping links that may take them outside the app.
See the Children's Reward Board page for full details about the app.