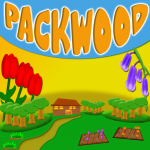 Packwood: A World of Fun and Learning for Children…
I am very pleased to announce today the launch of Lunapip's latest kids app, Packwood for iPad.
Packwood is a fun, friendly virtual world that children can explore. In this first version children can visit The Field, The Play Garden and The Strawberry Factory.
Packwood will be a constantly growing and evolving world so why not grab a copy today at it's special introductory price of just $0.99 (US).