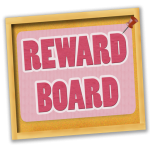 Lunapip Launches Reward Board 3
Combines children's fascination with gadgets and love of rewards to create the perfect reward app.
FOR IMMEDIATE RELEASE:
Birmingham, UK – 31 July 2013
Kids love gadgets, they also love rewards – combine those together and you get "Reward Board" – the best interactive kids reward app on iPhone, iPad and iPod touch.
Reward Board, formerly Kids Reward Chart, is a 21st century take on the traditional reward chart. A fun, interactive way to help children develop good behavior and habits.
These are some of the benefits that Reward Board provides…
Encourages good behavior
Encourages children to complete tasks such as finishing schoolwork
Encourage children to participate with household chores like keeping bedrooms tidy!
Gives children goals to work towards
Encourages decision making – children decide whether to spend their points now or save for better rewards!
Provides a sense of achievement – Children can see their progress on the colorful reward board. Each child gets their own row on the board so they can see who has the most achievements so far!
How Does Reward Board Work?
Children complete tasks that parents assign to the app. Parents can have any number of tasks each worth from 1 to 5 points.
Parents also setup any number of rewards and specify how many points a child needs to claim the reward.
As each child completes tasks they are awarded points. Children can use their points to claim a reward or keep saving for a better reward.
The app keeps a log of events so the parent can easily see when tasks were completed or rewards claimed.
Reward Board is a great tool for the modern family.
Compatibility
Reward Board requires iOS 6.1 or better for the following devices:
iPhone 3GS (iPhone 4 or better recommended)
iPod Touch 4th Generation or better
iPad 2 (iPad 3 or better recommended)
iPad Mini
Reward Board is available worldwide in the App Store.
Pricing: $0.99 (£0.69 UK).
App Store URL: http://itunes.com/apps/kidsrewardchart
Product URL: http://www.lunapip.com/apps/reward-board/
Logo:
http://www.lunapip.com/content/wp-content/uploads/2013/07/alt-icon-512.png
Screenshot 1:
http://www.lunapip.com/content/wp-content/uploads/2013/07/Screenshot-2013.07.21-22.12.26.png
Screenshot 2:
http://www.lunapip.com/content/wp-content/uploads/2013/07/Screenshot-2013.07.21-22.12.04.png
Based in the UK, Bethany Antonio is an independent software developer focusing on Apple mobile platforms.
All Rights Reserved. Apple, the Apple logo, iPhone, iPod Touch and iPod are registered trademarks of Apple Inc in the U.S. and other countries.
Bethany Antonio
Owner
ENDS