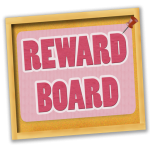 Children's Reward Board 3.1 Released
24 August 2013
Lunapip today released the latest version of Children's Reward Board – the world's most versatile digital rewards app for kids.
Version 3.1 brings "flippable" cards to the achievement screen. Just tap a card and watch it flip over to reveal the number of points the achievement is worth and the date is was earned or claimed.
Several minor bugs have also been fixed in this version.
You can download Children's Reward Board from the App Store.