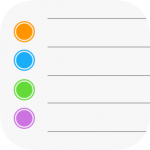 Upgraded Apple Reminders by mistake? Here's a possible solution to that syncing feeling
With the release of iOS and iPadOS 13 Apple introduced upgraded Reminders with lots of new features and a new interface for an app that has not received much attention from Apple over the past few releases.
While the new upgraded Reminders app includes new productivity enhancements such as smart lists, customisation, attachments and Messages integration, it does post a problem for users with one or more devices that are unable to be updated to the latest version of macOS, iOS or iPadOS.
Upgraded Reminders require iOS/iPadOS 13 and macOS 10.15 Catalina. If you opt to upgrade Reminders on an up-to-date device you will lose access to your reminders on devices running older versions of their operating system.
Because I don't often require my reminders to be available on different devices I decided to upgrade to the new Reminders on my iPhone but have yet to install Catalina on my Mac.
With a lot of the apparent problems users are experiencing with the initial version of Catalina I have decided to hold off updating for the time being. However I wondered if it would be possible to keep Reminders syncing across all my devices for times when I would need them. I also have an old MacBook which is running High Sierra and cannot be updated.
The solution I found was to use a previous iCloud account that I created sometime ago which does not have upgraded Reminders. I added that iCloud account to my Mac, MacBook and iPhone and just selected Reminders to be synced. This gives two accounts in the Reminders app – and upgraded one linked to my main iCloud account and a second one which uses reminders that can be synced.
You could also do this with any online service that offers reminders and add that to your devices. Creating a new iCloud account may also work but I'm not certain if new accounts come with upgraded Reminders by default.
Adding Another Account
To add an account on your Mac open up System Preferences, select Internet Accounts, click the plus button and choose the service you want to add.
On iOS open up Settings, scroll down to Passwords & Accounts and then tap Add Account to provide your login details.
Maybe not an ideal solution if you have mistakenly upgraded Reminders when installing the latest iOS or macOS but this would at least allow you to regain reminder syncing across your devices.