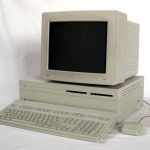 Bye Bye Macintosh Startup Chime
You turn on your Mac, you hear the chime. That's the way it always has been, that's the way it will always be.
Not so fast! Apple has removed the startup sound from the new MacBook Pro. The startup sound tells you that your Mac has performed a diagnostic check and everything is fine and dandy. The new laptop turns on as soon as the lid is opened and so Apple has decided there's no need for a chime. Boohoo!
Stop Press:
There's a terminal command to re-enable the sound. Yay, there's always a terminal command. All hail terminal commands.
sudo nvram BootAudio=%01
Of course you can also silence the MacBook Pro again and there's some other commands to control what happens when the laptop is plugged into a power supply.
So Apple – your scheme to silence Macs has been thwarted by your own terminal command!